Taking regular time off for leisure activities can help us reduce and manage our stress levels such that we are able to maintain balance and thereby enable us to be extremely productive.
Engaging in leisure activities together is part of our teamwork culture as we believe that improving team cohesion helps not only in achieving goals faster but also in avoiding individual burnout. We can be happier and thus more productive when we have positive relationships.
Organizing a lunch team is one of the best strategies to promote social ties at work! Who doesn't feel a million times better after a chatty lunch session with their work bestie?
Last Wednesday, the Big Wave Digital team had lunch together in Woolloomooloo.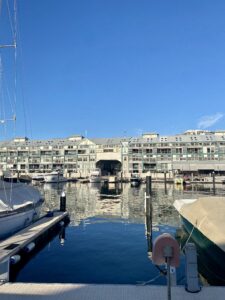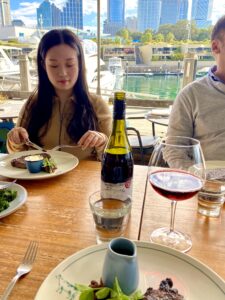 On a great winter day, we enjoyed fine wine, lovely conversations, and succulent steak outside under the warm Australian sun!
We decided to have lunch in Woolloomooloo, which is close to Sydney's central business district but yet offers a tranquil waterfront setting that encouraged us to discuss less about our jobs and more about the world and how we all live. Given how diverse our crew is, it was a priceless opportunity to learn more about other cultures.
Rachel comes from Hong Kong, Sanjana from the Netherlands, Adriana from Italy, and Nicole and Keiran from Australia.
I had the opportunity to learn more about Australian customs that are very different from Italian ones. At the same time, discussing Rachel's life decisions with her helped me to better understand all the changes that Australia has to offer. Since everyone on the team really seems to genuinely care about supporting one another, I became so fired up that after lunch I started considering extending my stay in Australia.
[email protected] or call on (02) 93804431
Let us help you build a Brilliant team in Digital, Data, and Technology.
Big Wave Digital are experts in Digital Recruitment Sydney, Data Recruitment Sydney, and Technical Recruitment Sydney